Have you ever had the pleasure of being given an Adobe Acrobat file only to find out that it cannot be printed, copied, or modified? Maybe you were given a PDF file to use only to find out you cannot open it because it is password protected? It only makes matters worse when you are a Mac user and all you ever here is about all the free PDF unlockers available for Windows users. Fortunately, there is a program called PDF Password Remover for Mac that can alleviate this frustration.
There is nothing more aggravating than knowing you have to interact with a PDF file, but are unable to. Most of the time this results in having to recreate the entire PDF file from scratch. Not to mention the fact that you have to have Adobe Reader and Adobe Acrobat on your computer in order to do anything with the PDF file. With PDF Password Remover Mac you do not have to worry about buying expensive programs or recreating an entire file from scratch. The program allows the user to get the PDF file to workable condition by removing PDF password restrictions in a matter of minutes. See how it works.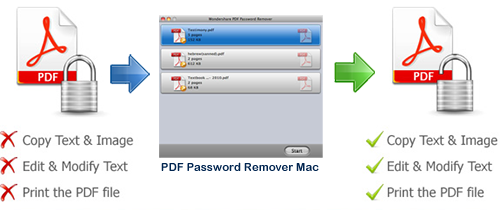 Two PDF Password Types - Owner Password and User Password
There are two different types of security protection passwords that individuals are going to encounter when dealing with a PDF. The first password is just an unlock password. An individual needs this password in order to open and view the PDF file. The second password is known as an owner or master password. It is a permissions password that an individual needs in order to do anything other than open the file. This means if a person wants to modify the file or print the file – they need this permissions password to do so.
Remove PDF Password Restrictions with PDF Password Remover for Mac
PDF files are one of the most commonly used file types on the Internet. For this reason this program is a must have for anyone who works with PDF files. This is especially true if you are someone who works with PDF files that are provided by other people. There is not always a guarantee that the file is going to come with the passwords to open it.
PDF Password Remover for Mac is a high quality PDF password remover tool for Mac users. It was created for the sole purpose of helping individuals with any and all restrictions they might encounter when working on or with a PDF file on a Mac operating system. This means it can assist in tasks such as removing text, modifying text, adding text, copying text, or printing text. It is also designed to remove any password or security encryption that has been placed on the PDF file. The program is fully capable of removing passwords and restrictions from PDF files in other languages as well. The program supports files in the following languages: English, French, German, Japanese, Greek, Korean, and Latin. Trial version of this program can be downloaded absolutely free:

Advanced Features of the PDF Password Remover for Mac
It has a lot of advanced features that really make it stand apart when being compared to similar applications. Some of these key features include:
Decrypt PDF owner password for removing restrictions, such as copying, editing, printing, etc.
Remove PDF user password from protected PDF files with a valid password.
Easy to use program with user friendly interface. Thus, perfect for newbie's.
Support newest 1.7 Extension i.e. Acrobat X files (AES and RC4).
No data loss - this program will not alter your PDF documents in any way.
Independent utility - no Adobe Acrobat or Reader to be installed on Mac.
Compatible with Mac OS X 10.6, 10.7 or 10.8 (Mountain Lion)
This program is perfect for individuals who interact with PDF files regularly, but do not have a lot of advanced computer skills. It comes with a very user friendly interface and is extremely simple to use. In fact, there are only three simple steps a user as to follow to remove any restrictions placed on the PDF file.